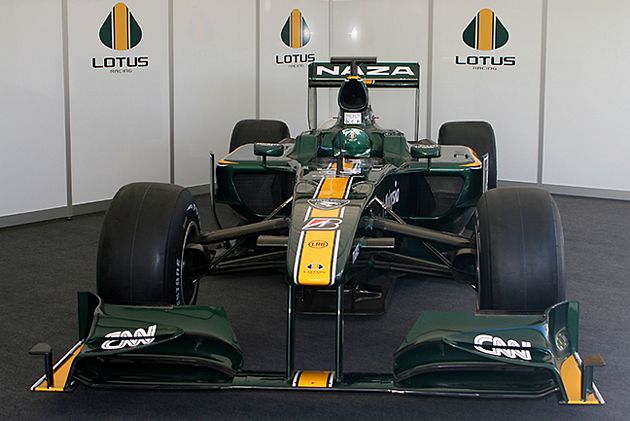 F1 2011 Line up
Team

Engine

Driver

Driver

Red Bull

Renault

Webber

(confirmed)

Vettel

(confirmed)

Mclaren

Mercedes

Hamilton

(confirmed)

Button

(confirmed)

Ferrari

Ferrari

Alonso

(confirmed)

Kubica

(possible)

Mercedes Benz

Mercedes

Rosberg

(confirmed)

Schumacher

(confirmed)

Lotus Racing? (Renault)

Renault

Massa

(possible)

Petrov

(possible)

Force India

Mercedes

Sutil

(possible)

Di Resta

(possible)

Williams

Cosworth

Barrichello

(likely)

Maldonado

(Likely)

Sauber

Ferrari

Kobayashi

(confirmed)

Perez

(confirmed)

Toro Rosso

Ferrari

Buemi

(confirmed)

Alguersari

(confirmed)

1Malaysia (Lotus racing)

Renault (?)

Kovalainen

(very likely)

Senna

(possible)

Virgin Racing

Cosworth

Glock

(confirmed)

D'Ambrosio

(likely)

Hispania

Cosworth

De La Rosa

(possible)

Chandok

(possible)
Proton's F1 plans
There has been a lot of fuss lately surrounding the usage of the name Lotus' in Formula 1. This is perfectly understandable, as Lotus has a huge heritage in the sport, being perhaps the second most recognisable F1 team behind Ferrari despite its sixteen year absence. Lotus won six championships with driving legends such as Clark, Fittipaldi and Andretti. In there later years they launched the careers of both Ayrton Senna and Nigel Mansell in the 1980s. Senna won his first race for the team in Portugal 1985, while Nigel Mansell would likely never have made his F1 debut if he had not been given an opportunity by Lotus in 1981, with Colin Chapman seeing something in him that no one else at the time saw. Without Lotus, it is very likely we wouldn't be being treated to Nigel Mansell appearing in Moneysupermarket advertisements.
The present situation
Here are the facts. Tony Fernandez formed a team called 1Malaysia to compete in the 2010 F1 season. Fernandez planned to run the team as Lotus in order to benefit from the team's history which would help him attract fans, sponsors and key team personnel. He gained the permission of Proton (who owns the Lotus car company) to use their name and paid them for the trouble. This was a fantastic opportunity for Proton to gain some great free marketing for the Lotus brand. However, Fernandez recently bought the rights to the name Team Lotus' which was the name of the original Lotus F1 team. To confuse matters, the Team Lotus' name has been owned by David Hunt since the collapse of the original Lotus F1 team in 1994. Hunt and Fernandez are under the impression that Lotus cars and Team Lotus' are separate entities, as during the original teams existence the two groups operated separately with neither being financial responsible for the other. This is what allowed the original Lotus team to go bankrupt back in 1994.
In 2009, Proton gained a new CEO called Dany Bahar. Bahar was responsible for the programme which brought Red Bull to F1 in 2005 before he moved into the position of brand manager at Ferrari. Upon his appointment at Lotus, Bahar made it clear that he saw Lotus as being very similar to Ferrari and therefore planned on marketing the company in the same way. This would mean he would not follow traditional marketing platforms (posters, TV and radio campaigns etc) but would instead support motorsport activities and benefit from the press stories associated with it and the fact that car fans would want to drive the same cars as their heroes. He hoped that this would allow the company to grow to a point where they are selling four times as many cars by 2015. This would involve global expansion away from Malaysia and therefore the Formula 1 world championship was the ultimate target to facilitate this. Fernandez's team allowed Lotus to do this and make a profit, however the fact that they gave there permission for the usage of the name meant that they maintained some control of the way the brand was presented. The news that Fernandez was going to use the Lotus name without their permission ruined this plan and Bahar argued that he should have control over how his brand is presented. In response, Bahar has bought a stake in the ultra successful GP2 team ART who have won championships in the past with Lewis Hamilton and Nico Rosberg. ART are owned by Nicholas Todt and have had ambitions to enter F1 for a long time but have never had the money to allow them to do so. Proton's involvement changes all of this and now ART involvement in the sport is looking increasingly likely.
What's going to happen?
Nothing is certain until Bahar and Fernandez sort their difference of opinion, with this now going on behind closed doors. Bahar's involvement in ART is interesting as it was only announced after Fernandez declared his intention to use the Team Lotus' name and after ART had withdrawn an application to enter their own new team into F1 in 2011. This would suggest that Bahar now wants to start a Lotus F1 team of his own and that he believes that starter operations such as the one Fernandez has created this year are not the best way into F1 due to the time needed to build up the team's competitiveness and the investment needed to build facilities. The only other alternative is to buy an existing team.
The Renault team is currently facing an uncertain future. It was sold by Renault to the investment firm Genii capital late last year. It is believed that Genii capital funded the purchase with a loan from DIAC bank, which is owned by Renault. This shows the determination of Renault to offload the team from its responsibility in order the save money following the credit crunch. This loan is alleged to have recently been repaid by Genii Capital using two new loans from two different Eastern European banks. Genii capital Principal Gerard Lopez recently admitted that the cost of running the team had been far greater than he expected in 2010. This combined with the fact that he hasn't actually bought' the team suggests that his F1 ambitions are not long term. When he purchased the team, they had just been convicted of race fixing at the Singapore grand prix in 2008 and had finished a dismal eighth in the constructor's championship despite having Fernando Alonso as a driver. In the space of one year, Lopez has transformed the team with Robert Kubica in the driving seat, and they are now a very strong fifth in the constructors with their sporting image significantly improved. The team is therefore worth much more now than what they were at the end of 2009, and therefore Genii Capital has a great opportunity to sell the team at a profit.
Proton would be the ideal buyer, as purchasing a former championship winning team would give them the opportunity to be competitive with their F1 team straight away. Naming the team Lotus would fulfil Bahar's ambition of making Lotus into a Malaysian Ferrari and allow them to continue using F1 as a global marketing platform. ART could be used to run the team and therefore fulfil their F1 ambitions, allowing Bahar to focus on continuing to build the road car company. The only stumbling block in this plan is Fernandez's intention to use the Team Lotus' name. Having two teams named Lotus would obviously give both teams a bit of an identity crisis. When Bahar was giving Fernandez permission to use the Lotus name he could withdraw permission at any point allowing him to start up his own team (as it seems was his intention). However, with Fernandez's use of the Team Lotus' name this luxury disappears.
Will the real team Lotus please stand up
One thing is certain, there will not be two teams called Lotus in F1 next year as neither would benefit from it. Either Fernandez will be allowed to run as team Lotus and Bahar will have to rethink his plans, or Fernandez's team will be renamed 1Malaysia again and the Renault team will be called Lotus Racing in 2011. This is a confusing and unfortunate situation for fans. The only hope is that the two parties sort out the situation soon and that we have at least one Lotus team next year.
Fernandez's plans to use Renault engines and Red Bull hydraulics in 2011 should see the team much improved; however it is doubtful that they will be as competitive as the Renault team (or what ever name they go by next year). In 2010, each modification made to the Renault car has resulted in a lap time reduction which is a good omen for the development of the 2011 car. If Bahar buys the team he will also immediately be able to boost the team's finances by selling its prized asset. Robert Kubica, who is under contract to the team for 2011, is known to be eager to join Ferrari at some point in the future. Meanwhile Felipe Massa is unhappy at Ferrari having played a supporting role to Fernando Alonso this year. It is therefore likely that both drivers would happily swap places, allowing Kubica to join Ferrari and giving the Renault team a much needed cash injection with Ferrari likely willing to buy Kubica out of his contract. If ART were to be running the Renault team for Bahar, it is interesting to note that ART boss Nicholas Todt is also the manager of Felipe Massa. Massa would surely be very happy to be the lead driver in a team where he would once again have the complete support of management. This would leave us with Kubica and Alonso fighting for the championship as team-mates at Ferrari, while Felipe Massa would likely be fighting for wins with Lotus Renault. Is it too good to be true?