As announced last week by the largest German automaker group, Volkswagen will produce the first series electric-powered Golf in 2013. In this period of time, VW will produce 500 units of test prototypes that will divide them in various parts of Europe. By this test, Volkswagen want to learn more about the mode to use these vehicles in everyday life. With the Golf blue-e-motion debut on market, Volkswagen will create an electric version of its Jetta. Both models will debut after a year from Up blue-e-motion launching.
The German government wants to put one million electric cars on roads until 2020. As now, Volkswagen will have to fight with Renault, Citroen, Peugeot, Nissan and Opel, automakers that have already announced the production of electric models that will debut next year.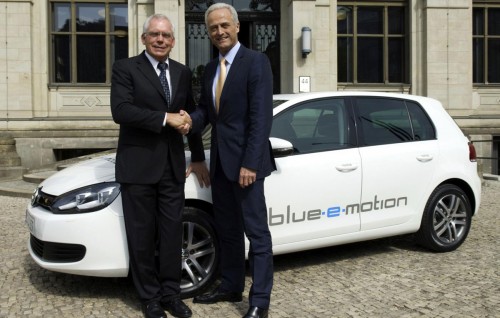 The Volkswagen officials have presented the concept of the first Electric Golf  in a special ceremony at Germany. The model is equipped with an electric motor with 115 HP, powered by lithium-ion batteries. It offers 200 lb-ft of torque from the first rotation, while the battery gives a range of 93 miles. Top speed is limited to 87 mph (or 140km/h) to preserve the model autonomy.