Last Sunday, the Round 4 of Audi R8 LMS Cup dramatically ended at Zhuhai International Circuit, China. As part of our effort, I spent a fantastic race weekend in Zhuhai and got to watch the Audi R8 LMS Cup Rounds 3 & 4 live. On the whole, the Round 4 race is interesting and by far is one of the exciting live races I've ever spent time with. The race in Zhuhai International Circuit is crowded with a lot of supporters on actual race day unlike anything we usually see in Sepang except for Formula 1 which is mind-numbing.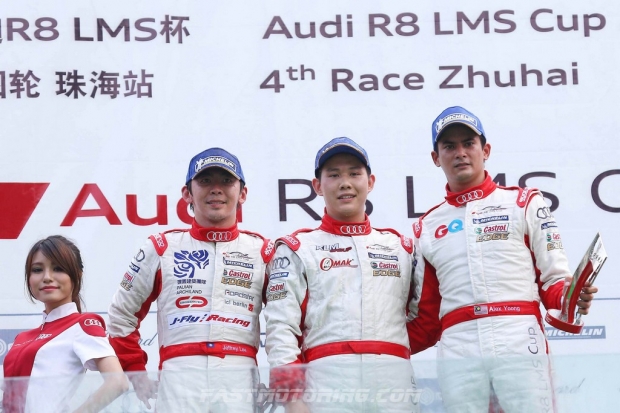 The Round 4 concluded yesterday with KLM Racing driver Adderly Fong from Hong Kong scored his second Audi R8 LMS Cup victory following a dramatic last-lap between Marchy Lee of Audi Ultra and Audi GQ driver Alex Yoong. He also inherited the lead in the championship. Taiwan's Jeffrey Lee of Pauian Archiland J-Fly Racing won his second straight Amateur Cup victory and finished second overall. Alex Yoong finished third, with his car running to the finish line on three wheels.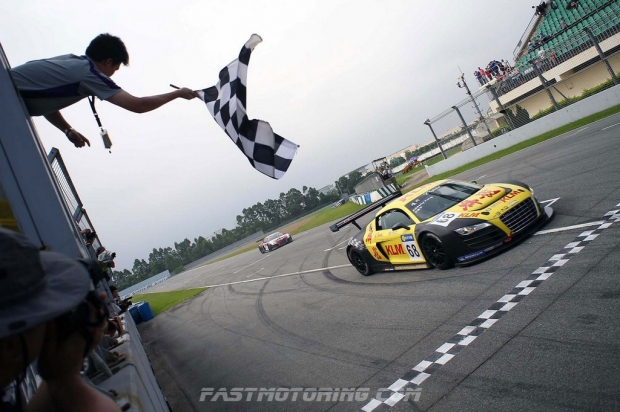 Audi Driving Dreams driver Daniel Bilski of Hong Kong finished second in the non-professional class in his debut Audi R8 LMS Cup weekend, while lady driver Zhang Ran with Audi Castrol stood on the podium for the first time, finishing third in the Amateur Cup.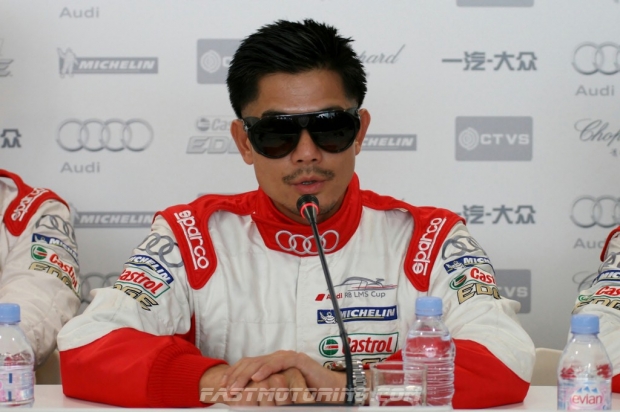 Hong Kong celebrity driver Aaron Kwok with Team Audi R8 LMS Cup did not start (DNS) Round 4 due to the damage to his Audi R8 LMS Cup car from last race incident. Though, I spotted his car undergoing repair at the workshop behind on Round 4 race day.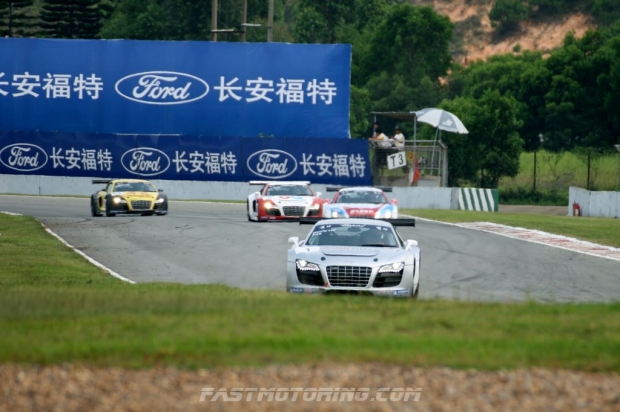 On the start, the champion from the last race – Marchy Lee led his position constantly starting from the pole and quickly began to create a gap.  However, Adderly Fong who had started on 2nd pole position fell to 4th position with Team Erdos Xinan driver Sun Zheng and Team Audi GQ driver Alex Yoong ahead of him. As Marchy pushed further, Alex worked to chase Sun Zheng, eventually overtook Adderly on Lap 5.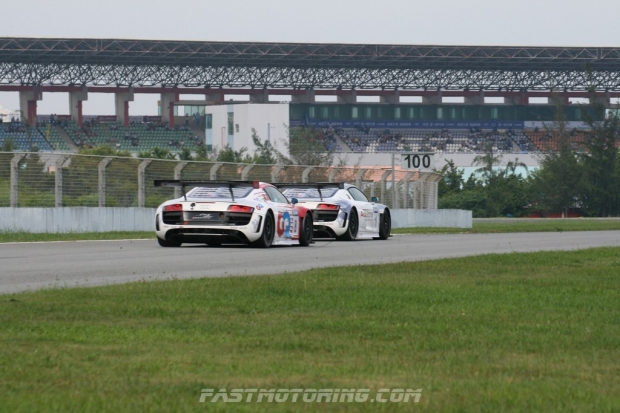 By Lap 7, Alex Yoong had nearly a 5-second lead. Adderly continued to pile on the pressure on Sun Zheng, which lead him to drop down to 7th position after spinning on Turn 4 on Lap 10. Indeed, I believe the tyres on Marchy's car had started to affect his drive and handling after the aggressive sprint. Therefore, the second half of the race saw Alex Yoong close the gap on Marchy Lee.  At the same time, Pauian Archiland J-Fly Racing driver Jeffrey Lee chasing up to fought for the podium position against Adderly Fong.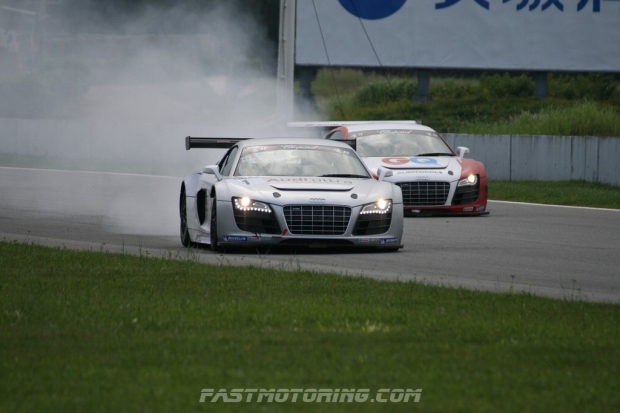 On the last lap, the drama started with Alex Yoong getting by Marchy Lee to take the race lead. Seconds later, on Turn 1 of the final lap, Marchy Lee grabbed an opportunity and took back the lead. Yet, Alex Yoong kept up the fight and on Turn 4 came alongside his rival and the two made contact. Although Alex Yoong went into the gravel, he recovered to finish third. Unfortunately, Marchy Lee's car could not finish the race due to the damage.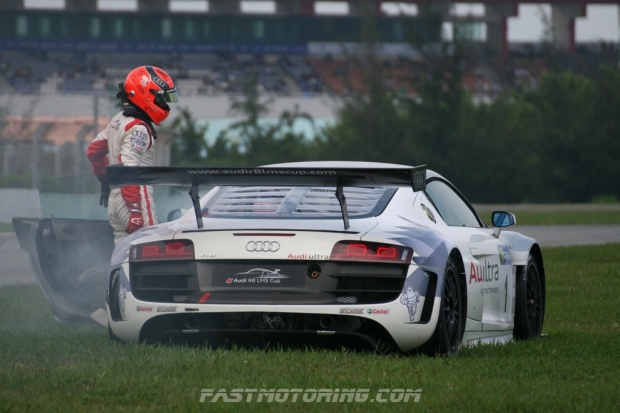 As the result of the drama, Adderly Fong took chance to dash to the victory line cleanly right after that. After Rounds 3 & 4, Adderly Fong now leads the drivers classification by 13 points ahead of Alex Yoong, with Marchy Lee a further eight points adrift. Jeffrey Lee continues his lead his first position in the Amateur Cup leaderboard.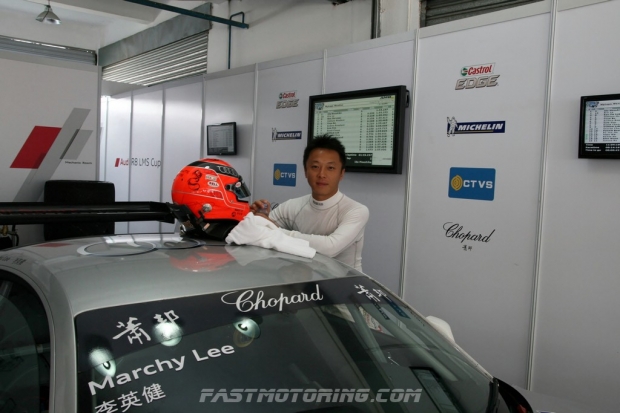 Said Marchy Lee from Audi Ultra after the race, "I think I controlled the pace and the rhythm for most of the race and then I could feel my tyres starting to go and I think maybe I pushed too hard in the beginning. It was okay though until one of the backmarkers spun in front of me and I lost my attention, allowing Alex to make his move. I let him past and then told myself I would push on the last lap. On T1 [of the last lap], Alex made a mistake and I passed him back. On T4 he came on the inside of me, but I was already on the inside, there was no gap for him to pass. I'm quite disappointed in this fight."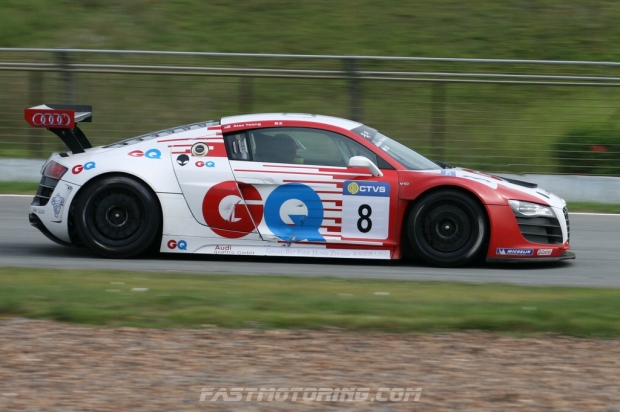 The fastest lap time in the Round 4 was recorded by Audi GQ driver Alex Yoong with 1:37.925 on Lap 12. The upcoming race – Rounds 5 & 6 of Audi R8 LMS Cup is scheduled to be held at Ordos International Circuit in Inner Mongolia on 17-19 August 2012. 
Results for Round 4 – Audi R8 LMS Cup at ZIC
1. Adderly Fong (HK) KLM Team – 34:55.419
2. Jeffrey Lee* (TW) Pauian Archiland J-Fly Racing – +0.564
3. Alex Yoong (MY) Audi GQ – +10.058
4. Wang Jian Wei (CN) Team Betterlife – +11.481
5. Han Han (CN) Team Zhe Jiang Aotong – +23.015
6. Sun Zheng (CN) Team Erdos Xinan – +29.090
7. Sun Chao (CN) P D Group Team – +49.515
8. Daniel Bilski* (HK) Audi Driving Dreams – +53.392
9.  Zhang Ran* (CN) Audi Castrol – +1.21.260
10. Clifford Chen* (TW) J-Fly Racing Team – +1.22.413
11. Bryon Tong* (HK) AK Racing – +1.27.994
12. Adrian Fu* (HK) FuSpeed Racing – +1.37.760
13. Marchy Lee (HK) Audi Ultra – 1 lap
14. Hugues Ripert* (HK) Spark Motorsport – DNF
15. Hua Xia Wei^ (CN) Team Chengdu New Elements – DNF
16. Aaron Kwok*~ (HK) Team Audi R8 LMS Cup – DNS
* Amateur Drivers
^ Did Not Finish (DNF)
~ Did Not Start (DNS)
Photo Gallery: Audi R8 LMS Cup – Round 4 @ ZIC
Photo Gallery: Aaron Kwok @ Audi R8 LMS Cup (Rounds 3 & 4) - Zhuhai International Circuit