The Super GT Series Round 3 had concluded on 10 June 2012 with Team No. 18 Weider Honda Racing and Team No. 33 HANKOOK KTR claim the chequered flag in the GT500 and GT300 classes.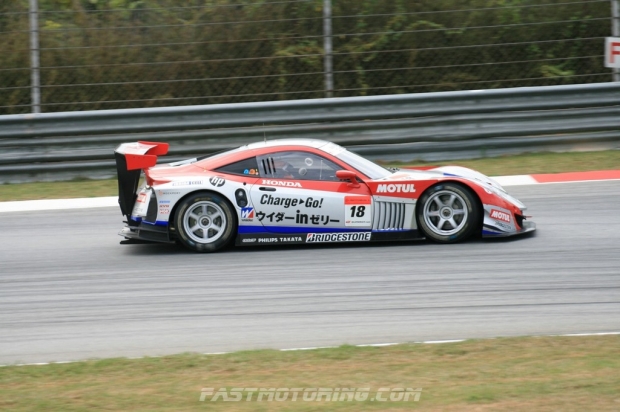 In the GT500 class, Machine No. 18 WEIDER HSV-010 took Pole Position during the qualifying session, and went on to win the race, although for most of the race, Machine No. 38 ZENT CERUMO SC430 was snapping at its heels. Takashi Kogure, Driver 1 of the No. 18 WEIDER HSV-010 remained steady under pressure and by Lap 13, he was leading by 3.438 seconds. Carlo Van Dam took the wheel in Lap 29 with the car still in the lead, and continued all the way to the chequered flag with a time of 1:47:52.531 seconds.
In the GT300 class, Machine No. 33 HANKOOK PORSCHE claimed the chequered flag after 49 Laps of furious racing. The HANKOOK PORSCHE, which also took Pole Position in the qualifying session had a steady race with no problems. Drivers Masami Kageyama and Tomonobu Fujii made consistent and quick laps with the HANKOOK PORSCHE, crossing the finishing line with a time of 1:47:57.011 seconds. At the Post-Race Press Conference, both drivers accredited the win to keeping the tyre pressure and temperature steady.
After Round 3 at Sepang, the Super GT Series Round 4 is set to be on the 28th and 29th of July at Sportsland Sugo in Japan. Currently, Yuji Tachikawa and Kohei Hirate are leading the drivers standing in the GT500, while Kyosuke Mineo and Naoki Yokomizo are leading in the GT300. After Round 3, there are 6 more races to go.
Click here to download the Official Results of 2012 Super GT Series Round 3
Photo Gallery: 2012 Super GT Series Round 3 Race Day