The all-new Honda Civic Hatch prototype has made its global premiere at the 86th Geneva International Motor Show ahead of its European launch in April 2017.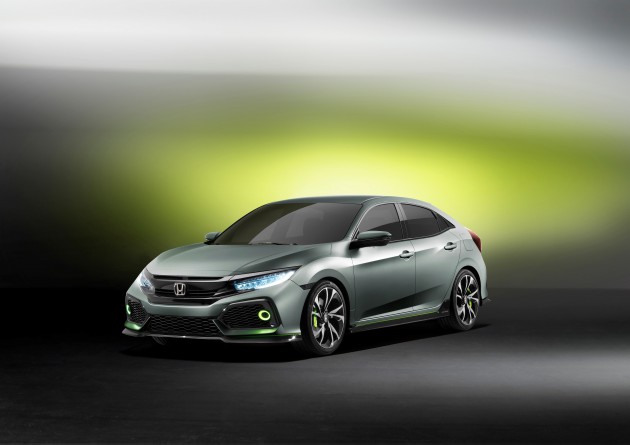 The prototype, unveiled exclusively at one of the world's most highly-regarded motor shows, reveals a sporty and dynamic new Civic design that reinvents conventional compact styling.
"This tenth-generation Civic Hatch is the sportiest remake of the Civic ever," said Honda Australia Director, Mr. Stephen Collins.
"This is an exciting new chapter for a much loved Honda nameplate. We have a three-phase launch plan in Australia that will put Civic back on the shopping list of small car buyers.  The all-new sedan will arrive mid this year and then Hatch will follow, and then Type R.  We aren't able to confirm exact timing for the Hatch or Type R as yet, but these variants will play an important role in the success of this model" said Mr. Collins.
The all-new Civic Hatch will be wider, lower and longer than the current generation. New larger and wider wheels and tyres give a feeling of an assured stance, while the long wheelbase, short overhangs and sleek cabin area further add to the dynamic feel of the exterior.
At the front of the car, a short overhang with large air intakes presents a sharp and aggressive interpretation of Honda's family face. LED headlights and daytime running lights flow from beneath the boldly sculpted bonnet into accentuated wheel arches.
The sleek and swept-back body lines continue along the side of the car with a swage line that incorporates front and rear door handles before culminating in the distinctive C-shaped LED rear lights. A second, lower character line extends from behind the front wheels up through the doors and meets the rear wheel arches, emphasising the car's dynamic forward-leaning stance. At the rear, the bumper incorporates angular creases and vents, designed to echo the aggressively styled nature of the rest of the car.
Daisuke Tsutamori, Project Leader for the 10th generation Civic provided an insight into how the distinctive design was conceived and realised: "We knew that we needed to create a striking and stand-out exterior design that challenged conventional European compact styling while staying true to the original Civic's core values; a marriage of distinctive and sporty design, rewarding driving dynamics and versatile practicality."