The All-New Mazda MX-5 has been awarded Wheels Car of the Year for 2016 in Australia.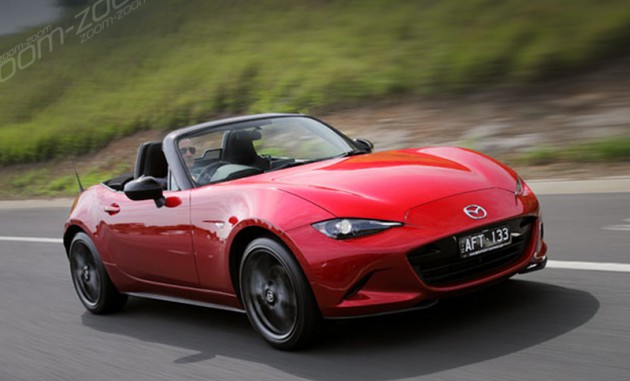 Considered Australia's most prestigious motoring award, the MX-5 is now a three time Wheels Car of the Year winner having also won in 1989 and 2005.
This year's win means three of the four MX-5 generations have been awarded Car of the Year.
The first-ever Mazda MX-5 (NA) was launched at the Chicago Auto Show in 1989 and collected its first Wheels Car of the Year soon after. It was also voted as one of Wheels 'Top 10 cars' every year between 1989 and 1997 and judged the 'Most Significant Car of the 1980s'.
When the third generation MX-5 (NC) was unveiled in 2005 it took out that year's Wheels Car of the Year, it also received Wheels magazine's 'Outstanding Auto Design' award.
"The Mazda MX-5 is motoring at its purest," said Wheels editor Glenn Butler.
"It proves that you don't need brute power and insane speeds to have a momentous time behind the wheel.
"The MX-5 roadster is a stunning achievement. It's smaller on the outside but more practical on the inside, it's lighter than its predecessors but is also stronger, and it is quite simply better than ever.
"But, more than ticking boxes and meeting our tough testing criteria – which it did impressively – this is about the joy of driving a great car.
"It's an exhilarating experience and the driver is the true winner here."
Arriving in Australia last August from a sharp $31,990 plus on roads, and now available with a choice of 1.5 or 2.0 litre engine, the All-New Mazda MX-5 (ND) has recaptured the imagination of sportscar lovers with 917 sales to the end of 2015 – a record sales tally for five consecutive months. It was also the nation's best-selling sportscar in November and December*.
Also recently awarded 2015-2016 Japan Car of the Year, Mazda is delighted to receive this award for the third time.
"MX-5 is central to Mazda's vehicle design philosophy of Jinba Ittai – or Zoom-Zoom as we prefer to call it – where the driver and car perform as one," said Mazda Australia managing director Martin Benders.
"In layman's terms that means every drive makes you smile.
"Almost one million owners worldwide are testament to the consistency and purity of the MX-5 product DNA delivered by Mazda over four generations and 26 years.
"Winning three Wheels Car of the Year in those four generations shows that Mazda's premier motoring judges fully agree."
The All-New Mazda MX-5's 2016 win takes Mazda's Wheels Car of the Year tally to seven, having also won in 1980 (Mazda 323) , 1983 (Mazda 626) , 1989 (Mazda MX-5 NA), 1992 (Mazda 626), 2003 (Mazda RX-8)  and 2005 (Mazda MX-5 NC).
Since import brands became eligible to win Wheels Car of the Year in 1977, Mazda has been the most successful manufacturer. First-Ever Mazda CX-3 was also a finalist in the 2016 Wheels Car of the Year.