In anticipation of the rush back to kampung for the Raya holidays, PROTON is carrying out free 30 points inspection for Proton owners at all its authorised service outlets nationwide. This initiative is to promote the awareness of vehicle safety to its customers.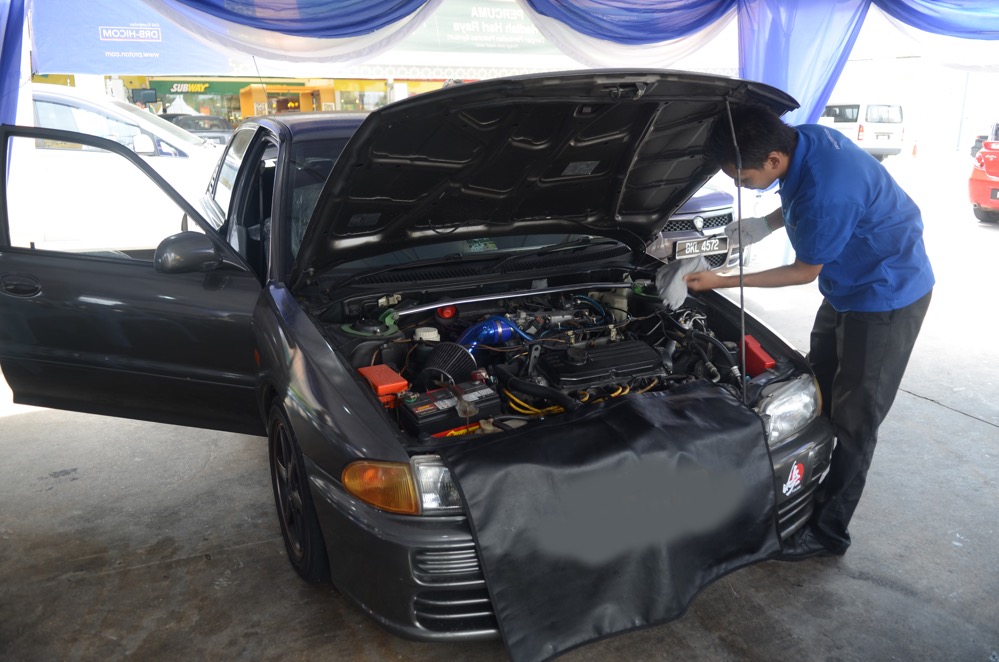 Customers can enjoy this free check at all PROTON authorised service centres nationwide. The 30 points inspection include checks of fluid level, battery, wiper blades, radiator cap, pedal operation, suspension system, steering linkage and ball joint system, cooling system, fuel and brake system as well as tyre pressure (including spare tyres). Other than the free 30 points inspection, customers will also be given free consultation on engine and car maintenance, educate on how to differentiate genuine parts against imitation parts as well as enjoy discounts on parts and other promotions.
"As a car maker we have a social responsibility to educate and promote safety awareness to users, especially in supporting the government's call to reduce road accidents during festive seasons and school holidays. The best way would be to reach out to our customers and help them be conscious on the condition of their cars as this can greatly reduce the number of accidents," said Dato' Abdul Harith Abdullah, Chief Executive of PROTON.
To reach out to all our customers especially does who miss getting their cars to the service centre, a week before the Hari Raya holidays, PROTON will also be extending the same free 30 points inspection to Proton owners at selected Petronas stations. Customers who take advantage of the free inspection will also bring home a goodie bag each.
This program, which is jointly organised with Petronas will be held on 9 to 15 July 2015, from 3 pm to 7 pm. The Petronas stations involved are:
Central Area (9, 10 and 11 July 2015)
Petronas KM 15.3, NKVE Damansara Station
North-South Highway (13, 14 and 15 July 2015)
East-Coast Area (13, 14 and 15 July 2015)
Petronas Tok Giring, Terengganu
R&R East Coast Highway, Gambang, Pahang
South Area (13, 14 and 15 July 2015)
Petronas Station Seremban, Negri Sembilan
"PROTON takes seriously the safety and comfort of its customers. Through the services and offerings available in this campaign, we hope to contribute towards creating awareness to our customers and road users in the importance of vehicle maintenance & safety. The vehicles should also always be in good condition especially for use in long journeys. Hopefully, these efforts will help to reduce cases of road accidents which occur more frequently especially during the festive seasons," Dato' Harith added.
In conjunction with the Raya festival, PROTON has also extended their Even More Value promotions with as low as 1.99% interest rate per annum on selected Saga and Iriz, 100% financing scheme for government staff, incredible deals for Graduates and Undergraduates, low interest rates for other Proton cars and many more. Apart from the low interest rates with lower monthly commitment, customers can also enjoy up to 26% discount on service packages for selected models.