Google has recently upgraded the existing Traffic and Transit for Google Maps in Malaysia. Now, Google has expanded the traffic info of Google Maps to Ipoh, Melaka and Penang. Previously, it only has traffic info of Kuala Lumpur.
The traffic layer provides data about real time road congestion right on the map in order to help users find how to get to where they need to go as quickly as possible.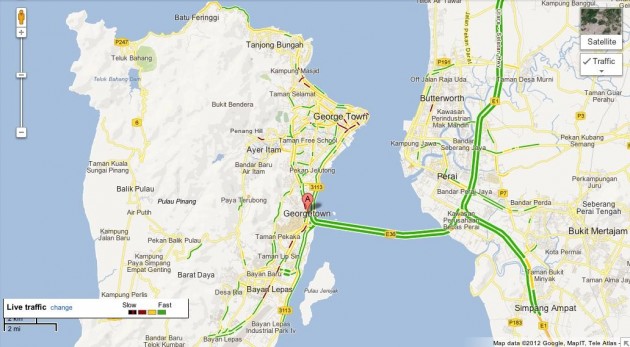 As you can see from the sample above, red indicate bumper-to-bumper traffic, yellow for slow moving transit and green for free flowing traffic.
According to Google, the traffic data at Google Maps comes from a variety of sources, including government departments of transportation, private data providers, and users of Google Maps for mobile who contribute anonymous speed information through our traffic crowd sourcing feature. Traffic data is refreshed every few minutes with the most recent known conditions.