Boon Siew Honda brought in two new performance bikes – the new CBR1000RR Super Sports bike and the all-new CRF250L dual-purpose adventure bike. Both models will be available at all Impian Honda Showrooms.
"These twin offerings will meet the diverse profiles of bike enthusiasts, with one machine for rough-and-tough use, and the other for a complete sense of control. One common denominator for these bikes is that each model is built upon the essence of realising dreams," said Managing Director and Chief Executive Officer of Boon Siew Honda, Mr. Satoshi Okada.
The New CBR1000RR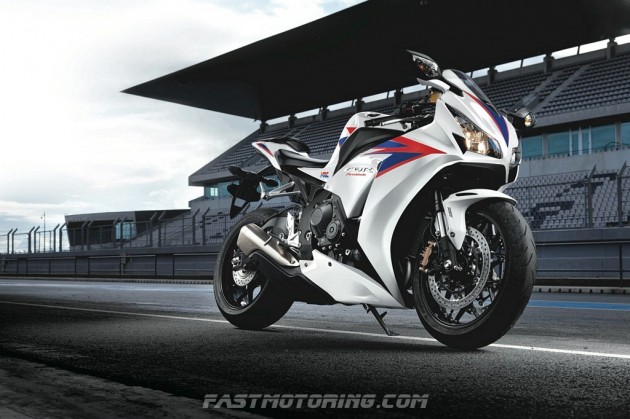 The new CBR1000RR is made for bike aficionados who desire rides at exhilarating speeds, with maximum control. The new CBR1000RR embodies the principles of compact dimensions, a light and stylish frame and mass centralization.
Whilst the CBR1000RR retains its powerful 999cc liquid-cooled 4-stroke DOHC inline 4-cylinder engine and new Programmed Dual Sequential Fuel Injection system (PGM-DSFI) make riding smoother and easy to maneuver. Its assisted slipper clutch feature increases chassis stability when decelerating and handling corners.
New suspension settings mean smoother and more accurate response with Showa's advanced Balance Free Rear Cushion that uses a double tube design. Its Big Piston Front Fork also uses Showa's technology, reducing internal pressures for smoother damping and enhances stability during hard braking. Elegant 12-spoke cast aluminium wheels provide more consistent rigidity, working with the forks for improved handling.
The new CBR1000RR's four-piece aluminium frame balances the strength, rigidity and lightness required for both superb handling and a strong power-to-weight ratio. The frame also contributes to the centralisation of mass, typical of Honda's racing and road-going bikes. The new second generation Honda Electronic Steering Damper (HESD) delivers high-speed stability and low-speed responsiveness in steering.
Multi-function LCD instruments communicate everything, from gear position to coolant temperature and speed, whilst the customisable tachometer is easy to read in all light conditions. The tachometer is viewable in four modes – Conventional, Reversed, Peak Hold & Single Segment. The 5-level shift LED indicator displays preset rpms once they are reached – great for maximising performance and ensuring optimum gear shifting.
The new CBR1000RR is available starting 14 August 2012 in Pearl Sunbeam White at the nett selling price of RM96,500.00 and Victory Red and Graphite Black at the nett selling price of RM95,900.00. The new CBR1000RR C-ABS, which is equipped with Honda's electronically-controlled Combined Anti-Lock Brake System, is available at the nett selling price of RM107,600 for Pearl Sunbeam White and RM107,000 for Victory Red and Graphite Black.
The New CRF250L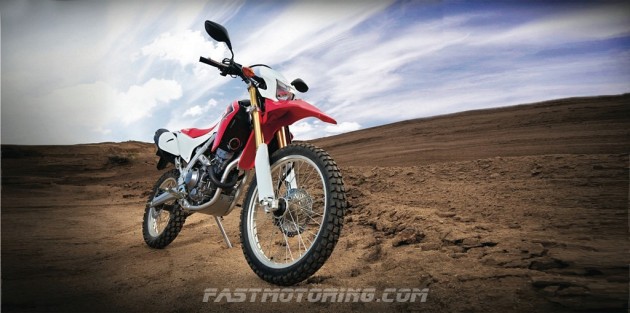 The new CRF250L is the image of ruggedness and versatility – light, nimble and ergonomically appealing. Based on the legendary XL series, this multi-purpose bike combines competition-level off-road performance with responsive handling and practicality. The new CRF250L is equipped with a semi-double cradle steel frame chassis that provides the strength and toughness needed for off-road riding. Its wheelbase design gives the machine excellent stability and agility supporting two adults plus a 5kg load. 
The chassis encases a newly developed liquid-cooled four-stroke single-cylinder 250cc DOHC engine that produces consistent torque at low rpm and excellent performance at high rpm; making power delivery well balanced throughout a broad rev range. The lightweight and compact engine is also responsive, due to the internal dimensions of the throttle body and exhaust pipe. Combustion efficiency is enhanced with an iridium spark plug along with precise metering fuel from the Programmed Fuel Injection system (PGM-FI). The new CRF250L has a new six-speed gearbox and clutch, designed to cope with the extra stress off-road riding can produce.
With its reputation as an off-road traveler, the new CRF250L has superb handling capabilities, maintaining correct rigidity balance, which is suitable for use over a wide range of terrain and speeds. The braced handlebar provides an upright and relaxed riding posture, with plenty of leverage, and 45¡ turning angles on either side give a tight turning circle – useful for dealing with urban traffic or tight trails.
Its brake system has also been tuned to offer a high level of controllability, making maneuvers precise and giving full control to the rider. Pro-Link rear suspension and Showa shock absorbers, together with the new CRF250L's 21-inch front and 18-inch rear wheels add to this great sense of control, increasing stability on rough terrain.
The slim fuel tank can hold 7.7 litres, and enclosed with a comfortable flat seat offering choices of riding position for maximum control. Seat height is 875mm. The cooling system uses a 10.7 kW heat-release radiator protected with a polypropylene grill baffled to improve airflow. A thin guide-ring cooling fan is used to keep temperatures even at low speeds – useful when in traffic or tricky off-road situations. Carbon emissions are managed with an O2 Lambda sensor, which works together with a secondary air injection system – making this bike Euro III Emission Regulations compliant.
The Honda CRF250L comes in Extreme Red at the nett selling price of RM22,688.00 and will be available at the end of August.