Mitsubishi Motors Malaysia announced that it has recently reached its 50,000th customer mark in Malaysia, in a record of seven years since the introduction of the company in 2005.
The 50,000th Mitsubishi owner in Malaysia is known as Erni Junaida Binti Mohd Roslan from Kuala Lumpur. The 31-year old Malaysian woman bought a brand new Mitsubishi ASX compact SUV recently.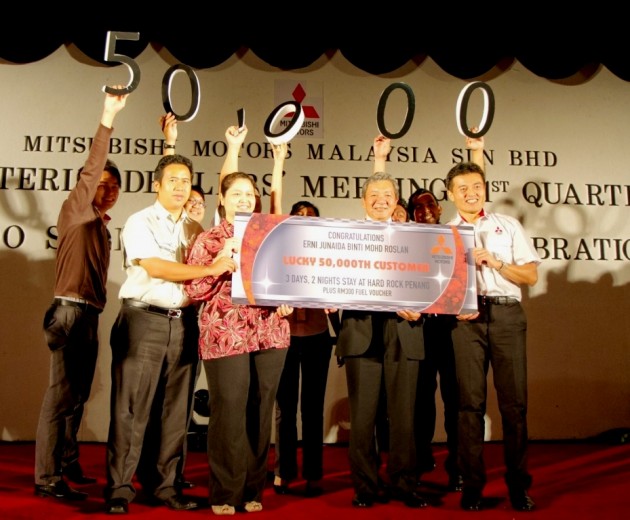 Tetsuya Oda, Chief Executive Officer of Mitsubishi Motors Malaysia presented Erni with an all expense paid trip of 3 days, 2 nights at the Hard Rock Hotel in Penang as well as a fuel voucher worth RM300.00 at a special celebration dinner held recently.
"I am delighted and proud to be the 50,000th owner of a Mitsubishi vehicle in Malaysia. Without compromising on power and fuel efficiency, I am proud to own a brand new stylish ASX," said Erni.
"Mitsubishi works hard to develop award winning new cars and automotive technology. Rally-tested toughness, performance and reliability make Mitsubishi Motors a trusted brand name and we are confident that we can soon cross the 100,000th Mitsubishi owners mark by 2015," said Tetsuya Oda, chief executive officer of Mitsubishi Motors Malaysia.
On the global front, 2012 also marks 50th years since Mitsubishi Motors began competing in Motors Sports activities. Mitsubishi Motors Corporation (MMC) is also proud to enter two all-electric vehicles (EVs) in the Electric Class category of the legendary Pikes Peak International Hill Climb this August. The Pikes Peak International Hill Climb is an event held annually in Colorado, United States.
MMC will be aiming for victory in the Electric Class category with the i-MiEV Evolution, a specially-prepared competition version based on the i all-electric vehicle. This competition is also held to prove that EV cars can go as fast as or faster than gasoline cars as well as for the company's data collection and knowhow for future EV technology.