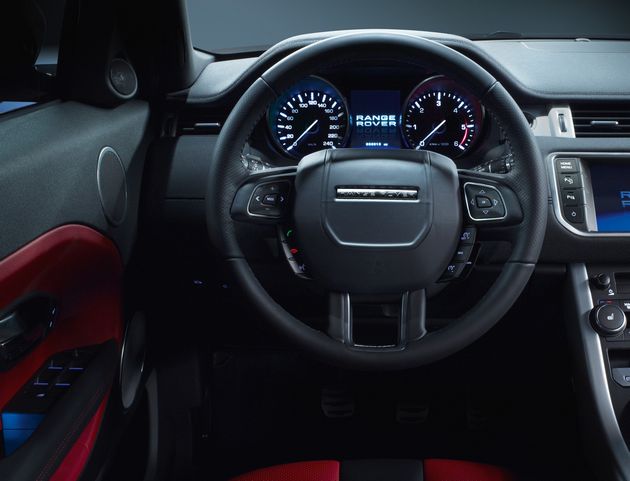 The all-new Range Rover Evoque, which debuts today in five-door form at the Los Angeles Auto Show, is the first vehicle to showcase Range Rover's new partnership with Meridian Audio, Britain's leading specialist manufacturer of high-end audio and video entertainment equipment.
All upcoming Range Rover models will eventually use sound and entertainment systems developed in conjunction with Meridian, the Cambridgeshire-based company that is recognised as a world innovator in digital audio. The in-car audio systems will match the sound quality of Meridian's high-end home entertainment, says Bob Stuart, Meridian Co-Founder and Chief  Technical Officer. Cars do provide a uniquely challenging environment,' says Mr Stuart. We believe that the hi-fi systems used in the next generation of Range Rovers will set new standards in automotive in-car entertainment. The Evoque's audio system will thus not only be class leading, it will offer one of the finest musical experiences available anywhere.
It is very satisfying to see two great British brands work together to produce something which we believe is truly world leading,' says Mr Stuart.
The Range Rover Evoque debuted in coup© form at the Paris Motor Show in late September, and deliveries of both coup© and five-door models – both using Meridian developed audio systems – commence late summer 2011. In car entertainment is hugely important in the luxury vehicle market,' says Phil Popham, Managing Director of Land Rover. We need the best possible technical partner. We chose Meridian for its exceptional quality. Working jointly on the tuning of the Evoque's in-car acoustic environment enabled two renowned British marques to combine their expertise and knowledge, ultimately delivering one of the most powerful listening experiences to our Range Rover customers.'
The Evoque will be available with two high-end Meridian sound systems both specially developed for the sporty new small Range Rover: a powerful 380W 13-speaker arrangement and a top-of-the-range 825W 19-speaker system, using full surround sound. Both offer amazingly sharp, crystal clear quality. Their RMS (average) power outputs are based on the 0.2 percent Total Harmonic Distortion with Noise (THD+N) rating.
State-of-the-art amplifiers incorporate Meridian's latest digital processing technology to ensure perfectly optimised sound quality, while both systems feature branded Meridian high-efficiency speakers with lightweight neodymium rare earth magnets for exceptional clarity and dynamics.
The speakers were specially designed and developed for the Evoque. The bass and mid-range speakers use mica-filled cones made from polypropylene, a very stable material ideally suited to automotive use. The mica filler improves the damping of the polypropylene, improving frequency response. The tweeter uses an ultra-light aluminium alloy dome to maximize efficiency and provides extended high-frequency performance.
Range Rover and Meridian audio specialists have also applied the sophisticated Meridian Trifield surround staging technology, along with Dolby Pro Logic IIx and DTS Neo 6. In addition, the Audyssey MultEQ XT audio tuning system digitally corrects any imperfections created by the cabin environment to deliver accurate, enveloping and distortion-free sound for all seating positions.
To compete the entertainment options, the Range Rover Evoque is also available with digital and satellite TV, DVD playback capability, a hard drive virtual 10 CD multiplayer and DAB/FM/AM/Sirius tuners with a high performance twin antennae system.
For rear-seat passengers, there is a comprehensive entertainment package that features full eight-inch video screens in the front headrests, a dedicated touchscreen remote control and state-of-the-art digital infra-red wireless headphones that provide stunning DVD-level sound quality.
For automotive queries on Meridian Audio please contact:
Simon Wittenberg
[email protected]
Phone: +44 (0) 207 491 9934