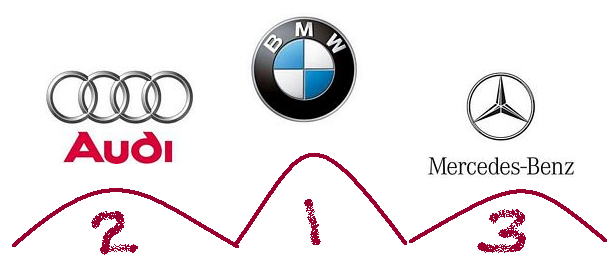 Audi has step up closer to reaching its goal of becoming the World's leading Luxury Car brand after overtaking Mercedes-Benz for the first time in quarterly global sales.
The company sold 264,100 vehicles in the first three months of 2010, a 26% year-on-year increase that surpassed Mercedes-Benz with 248,500 sales for the same period.
The Chinese market has contributed to Audi's success, accounting for nearly a fifth of the company's sales. The Volkswagen Group premium brand's 51,449 quarterly sales compared with 24,100 and 34,179 respectively for Mercedes and BMW.
Audi has openly declared its ambition to become the World's No.1 Luxury Car Maker by 2015, with plans of selling 1.5 million cars a year.
BMW AG remains the luxury car leader after announce global sales for the first quarter increased 13.8 percent from the previous year to 315,614 vehicles, with particularly strong sales in China as well.
Overall, the China emerged as its strongest market, which contributes the largest sales to the Car Maker which not only limited to the German's Car Makers.