Louis Vuitton creates tailor-made luggage for the most progressive sports car – the BMW i8 plug-in hybrid.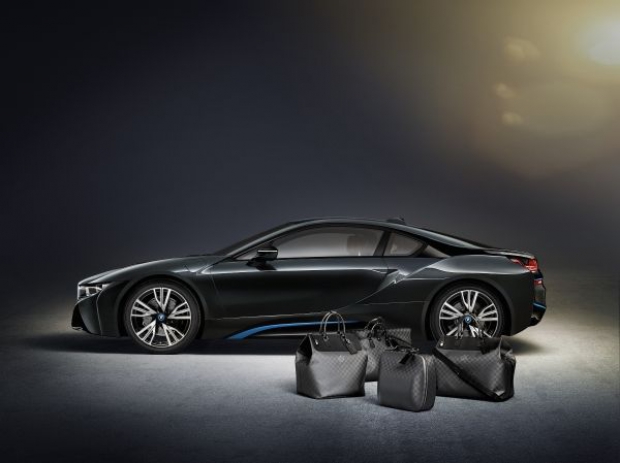 The innovative collection of luggage comprises two travel bags, a business case and a garment bag. To ensure optimal use of space, the luggage items have been tailor-made to fit perfectly into the interior of the revolutionary BMW i8.
"BMW and Louis Vuitton share both a profound appreciation of tradition and a commitment to constant further development," says Adrian van Hooydonk, Senior Vice President BMW Group Design. "The use of CFRP in the revolutionary BMW i8 sports car is indicative of an intelligent lightweight construction philosophy. And Louis Vuitton has demonstrated a similar belief in innovation, aesthetics and lightweight design in creating an exclusive luggage collection tailored perfectly to the new BMW i8."
The understated carbon-black of this luggage range matches the colours of the BMW i8. Its sophisticated look comes courtesy of the unmistakable chequered Damier pattern – a Louis Vuitton hallmark – and a laser-etched Louis Vuitton signature. Black and electric blue used in the microfibre-lining take their cue from the trademark brand colours of the BMW i8 and bag handles are made from dyed natural leather, a sign of Louis Vuitton quality. All items in the collection come with leather name tags and the iconic Louis Vuitton padlock with the exception of the garment bag.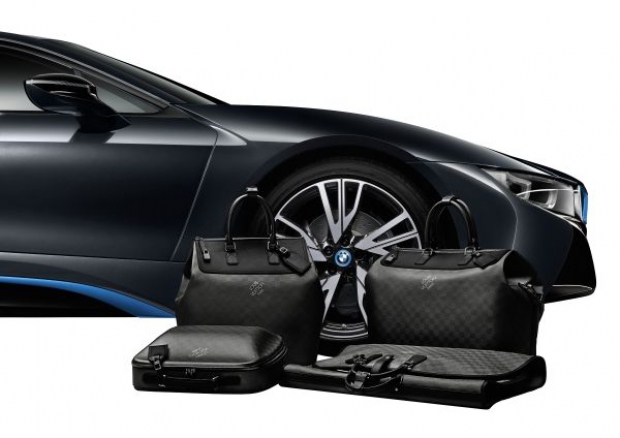 Patrick-Louis-Vuitton, Head of Special Orders at Louis Vuitton and great grandson of the House's founder, says, "This collaboration with BMW i epitomises our shared values of creativity, technological innovation and style. Our craftsmen at Louis Vuitton have enjoyed the challenge of this very special project, using their ingenuity and attention to detail to create a truly made to measure set of luxury luggage. This is a pure expression of the art of travel."
Inspired by the visionary design of the BMW i8, the bags and cases – like the sports car's innovative passenger cell – are made entirely from carbon fibre. This particularly lightweight yet extremely sturdy high-tech material has been used by Louis Vuitton to create a special textile. It provides great robustness and strength, and as such is made for the rigours of travel – no matter how long and arduous the drive.
The exclusive luggage pieces created by Louis Vuitton fit snugly into the BMW i8. The Weekender GM i8, with both hand and shoulder carry straps, is custom-designed to go into the boot, while the Garment Bag i8 is a perfect fit for the rear shelf of the BMW i8. The sturdy hardshell Business Case i8 which is also ideal for carrying laptops, matches the shape of the rear seats; while the small Weekender PM i8 is designed to rest on its surface.
The Louis Vuitton luggage series will be available upon request in a selection of Louis Vuitton stores worldwide (Munich, Milan, London, Paris, Moscow, Dubai, New York, Los Angeles) starting April 1st 2014.
Photo Gallery: Louis Vuitton creates tailor-made luggage for the BMW i8