In early September 2011, Edaran Tan Chong Motor Sdn. Bhd. (ETCM) introduced the all-new Nissan Livina X-Gear in Malaysia. The new Livina X-Gear is apparently designed to be a fun and practical crossover vehicle with 5-seat. Still, the price tag is appealing for a Japanese car with 1.6-litre engine displacement. Due to the facts, our team are devoted to review this car as our first priority.
The initial version of the Livina X-Gear was introduced in Indonesia in 2008 and followed in Brazil in 2009.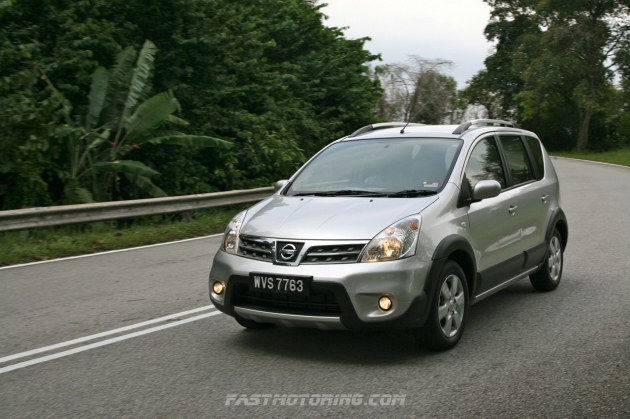 Ultimately, the 5-seat Livina X-Gear is modified from the 7-seat Grand Livina compact MPV. The platform is the identical but the outer shell is shorter with a complete redesigned front grille, SUV-inspired bumpers with silver sump guards, muscular over-fenders, side mouldings with silver finishers and roof rails that hold up to 25kg in weight.
The all-new Nissan Livina X-Gear and the Grand Livina 1.6-litre variant are both sharing the same 1.6-litre HR16DE all-aluminium engine and 4-speed auto transmission. The drivetrain is driving the front wheels with 105PS and 150Nm of max torque. The gearshift is impressively smooth for an auto gearbox but truthfully is not comparable to Continuously Variable Transmission (CVT) or Direct-Shift Gearbox (DSG). Yet, it is still a good point.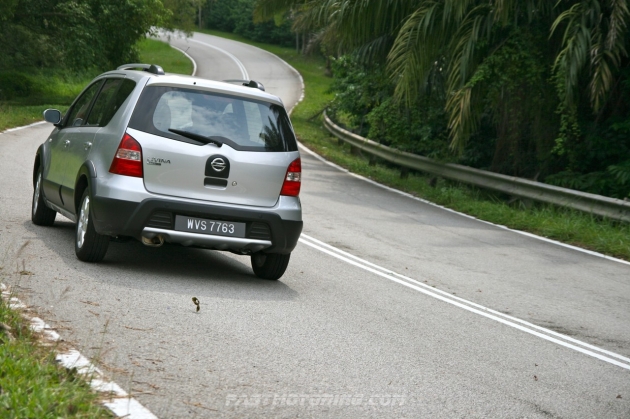 The features of the Livina X-Gear on performance, handling and braking are amazingly better than its other sibling – Grand Livina. Thanks to the shorter and lighter tail. Likewise, the car turns to be more fun to drive, zippier with less weight and more responsive.
Based on the Malaysian road quality as a benchmark, the ride is comfortable and well tailored for the all-new Nissan Livina X-Gear as a crossover vehicle.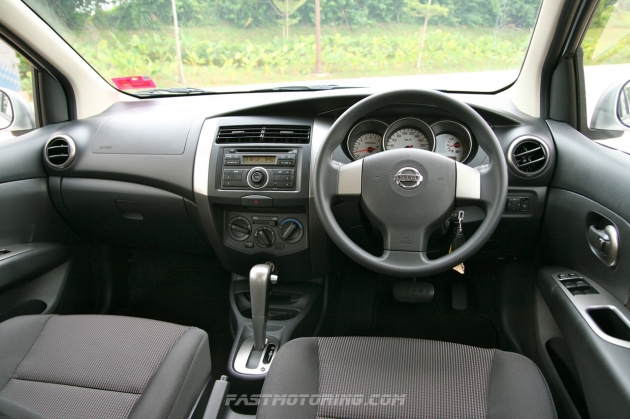 Inside the car, you will find the same dashboard as the Grand Livina. Although the interior might looks rather dull, but the car is practically designed and provides great cabin ergonomics. It comes with total 4-cup holders and the middle one is transformable from 1-cup holder to 2-cup holders. It is spacious with ample legroom for 5 adult passengers. The glovebox offers 7-litre of storage space which you can store many things inside (e.g. GPS navigator, books and more…).
The Livina X-Gear is factory fitted with 15-inch wheels (similar to Grand Livina) wrapped in Continental Comfort Contact-1 185/65 R15 tyres. We reckon that a slightly wider tyre (e.g. 195) will be an added advantage to further improve the cornering capabilities. However, I believe this is one of the factors that contribute to the fuel efficiency by the Japanese engineers. Based on the factory specification, the X-Gear delivers a commendable 13.8km/litre.
The presence of the new Livina X-Gear is directly competing with Suzuki SX-4 and indirectly with the discontinued Hyundai Matrix. I suppose the Livina X-Gear is the most economical in price for a Japanese breed with a 1.6-litre engine. Our verdict, the Livina X-Gear remained the best value and versatile choice, especially to the folks with an active lifestyle and without the need of the third row seats.
Though, the Livina X-Gear is well position on its price and is a most sensible car to buy now but I found there are a few minor weakness. Firstly, the side mirrors are small. Secondly, the no fancy features like audio controller on steering wheel, audio headunit with USB and MP3 playback, cruise control, auto headlamp sensor, and auto climate control. Lastly, I think it will be an added advantage if there is a front reading lamp and the rear seats can be flat folded.
Five (5) Available Body Colours for Nissan Livina X-Gear:- 
– Tungsten Silver
– Twilight Grey
– Brilliant White
– Supreme Black
– Sunburst Orange
There is only one variant available, the Livina X-Gear 1.6-litre Auto is now selling at RM 82,800.00 OTR (inclusive of insurance, road tax, registration fee and ownership claim fee) in Peninsular Malaysia with a 3-year or 100,000km warranty (whichever comes first).
Believe it or not, the all-new Livina X-Gear is now one of the popular models. If you are tend to buy one, kindly don't miss the special promotion of low hire purchase interest rates starting from 0.88% p.a. and free SolarGard Armorcoat tinting package worth RM1,400.00 (from now till 30th October 2011).
Photo Gallery: Nissan Livina X-Gear – DriveView