With the incoming of competition from various rivals for Toyota Vios such as, Honda City, Naza Kia Forte, Nissan Latio, Sentra – Toyota have to come out with a car that would stand out from the crowd and at time justify-able. UMW Toyota has decided take away the Vios "S" spec and give way to a more sporty and with more equipment – Toyota Vios TRD Sportivo.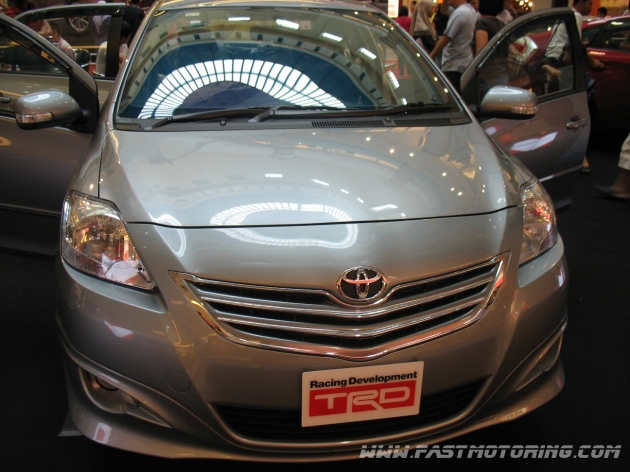 Toyota Vios TRD Sportivo was born in the last pre-facelift version and it has been revised together with this Vios facelift version. We've reported to you on the Toyota Vios G Spec & Toyota Vios E Spec earlier. Thus, we will be concertrating what UMW Toyota give you as extra in the Vios TRD Sportivo as compare to other Vios variants.
At a glance from the front, immediately the sporty factors is carried out with the lower front bumper bodykit and with a badge with "TRD Sportivo" it does give this Vios a very outstanding factor as compare to others variant.
The rear of a the Vios TRD Sportivo is equipped with  low spoiler with another 3rd brake light on top of the existing one. Although the spoiler it's not as aggressive looking as those after-market Mugen or Evo X spoiler, this spoiler carries the sportiness of the 1.5L  Vios without over doing it unlike the one on Toyota Altis TRD Sportivo we posted earlier.
The sides of the spoiler is also badged with TRD Sportivo logo. The rear bodykit of Vios TRD Sportivo is painted with a two-tone colour effect to increase the visual effect of a diffuser like styling. A chrome tail pipe is also attached to the exhaust. To further identify this top of the range Vios, a TRD Sportivo badge is attached to the rear boot where normally other version of Vios would be placing "J, E or G" .