Proton Satria Neo  R3 Lotus Racing edition with Tuned 1.6 Campro CPS engine by Race Rally Research (R3) – Proton's tuning division uncovered. With upgrades about RM60,000 of equipments and tuning from a standard Proton Satria Neo CPS, this mean machine receive a 145 bhp and 168 Nm of torque from a 1.6 engine. Judging by this figure, it is impressive.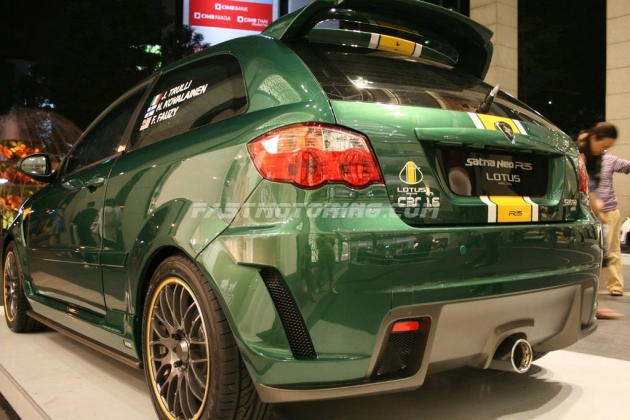 However Proton only able to claims 9.2 second on this Proton Satria Neo CPS R3 Lotus Racing Edition. Another highlight of this car would be – it costs RM115,000. Many would think this it's too much to pay for a Satria Neo. Let me walk you through the upgrades that has been done. The Satria Neo R3 Lotus Racing edition looks some what fimilar from the Satria Neo R3, but Proton claims that claims it's front back bumper are make with Race Proven FRP material and improved Aerodynamics.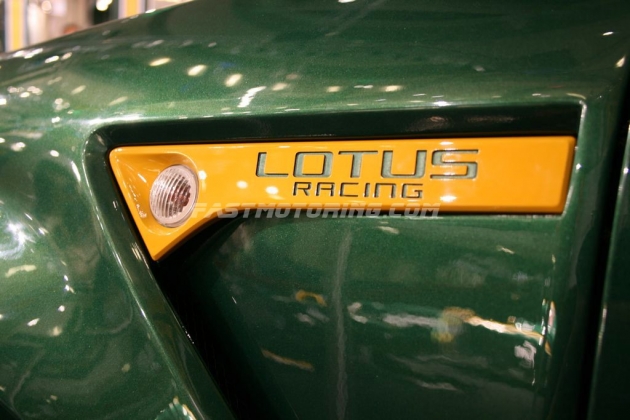 The Proton Satria Neo R3 Lotus Racing Edition is inspire by Lotus. Therefore, there's only one colour available – which is Lotus' Green. The car here, it's also style with some sporty elements such as yellow racing stripes and carbon fiber materials all over the car. From the outlook, the most signification difference would the be widen fenders with air vents and a Lotus badge on it.
Check out the Video As We walk you through the Satria Neo R3 Lotus Racing Edition.
The heart of the Proton Satria Neo R3 Lotus Racing Edition is using the 1.6 Campro CPS which can be found on the conventional Satria Neo CPS. The displacement remained as 1597cc with maximum output of 145bhp @ 7,000rpm and torque of 168Nm @ 5,000rpm. This limited edition only comes with Manual Transmission.
Click here to Read more about of the Full Review of Proton Satria Neo R3 Lotus Racing Edition with Videos and 57 photos! along with brochure