Honda CR-Z is positioned as a successor for the Honda CR-X. Both are categorized as the compact sports car, both front wheel drive and both do not need to have a big engine under the bonnet. If this is the 21st century CR-X, how good can it be? Read on the find out about this sporty car.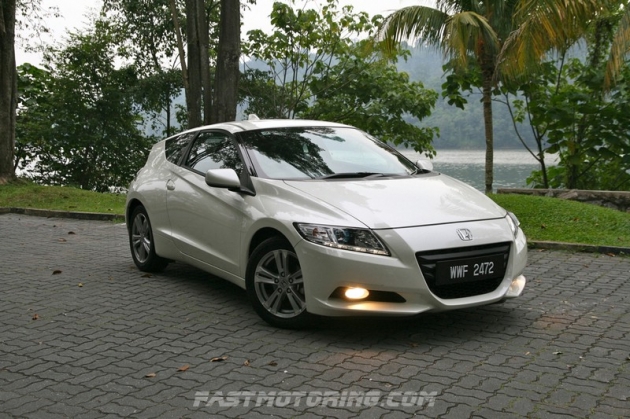 First off, the looks. The Honda CR-Z is definitely one of the good looking cars on the road, even sportier looking if you put on a good set of wheels and maybe the Mugen body-kit. The low bonnet, LED integrated daylight and the bullet design of the entire car certainly fit into the modern compact sports car requirements. It has 2 doors and seats at the rear. The rear part of the car is recognizable design cue from the Honda CR-X.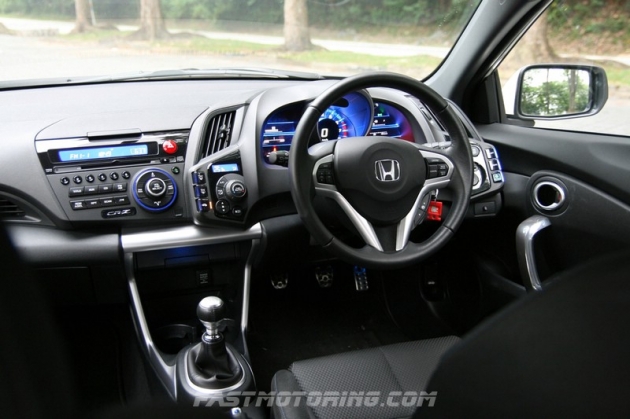 As we step inside the Honda CR-Z interior, the blue illuminance further embraces how modern sports car should look like. Advanced dashboards like this are usually seen only in concept cars. However, Honda had successfully brought this to a production vehicle like the Honda CR-Z. It may seem to be sophisticated at first glance with the numbers of buttons and informations displayed on the dash, but once you get used it after a while, you will love it.
There are 3 modes for select to change the way the ECU (Engine Control Unit) interacts with the engine, throttle control and air conditioning etc. In other words, there's a "ECO" -mode to set your CR-Z to save the planet, a "Normal" mode, as well the rev-happy "Sports" modes that makes the car come to life by burning more fuel for performance. The dashboard changes colour instantly on the way you drive as well, green for good fuel efficiency driving, blue for moderate, and red means you are consuming a lot of fuel. The dashboard also indicates when does the hybrid system is charging the vehicle to its battery and the number of trees appear in the dashboard is to remind you how fuel efficient is you driving pattern.
| | |
| --- | --- |
| | |
The Honda CR-Z model we drove was equipped with a 6-speed manual gearbox, and Honda claims that it is the first of its kind to have a 6-speed manual gearbox on a hybrid car. The gear change is smooth and solid into each gear position. Powering the Honda CR-Z is the Honda's 1.5L i-VTEC with IMA hybrid system that gives the CR-Z a 124ps and 174Nm of torque, not a number range you see in a usual sports car. Considering it is a hybrid and it is designed with the element of saving fuel, who says sports car need to be high horse power?