In conjunction with the launch of the Porsche Panamera Turbo S and S Hybrid by Sime Darby Auto Performance in Malaysia, the local distributor of Stuttgart based automaker took the chance to unveil the exclusive unique 911 GT3 RS 4.0 and Boxster Spyder.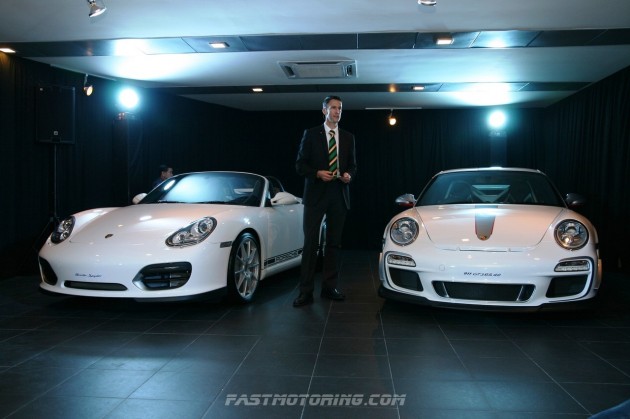 Both models are exclusive limited; The Boxster Spyder is exclusive to 1 unit in Malaysia and it is still available for sale as of now. Meanwhile, the last Porsche 997 variant ever – GT3 RS 4.0 arrived in a shipment of 5 units out of limited 600 units worldwide. Regrettably, all 5 units sold out completely.
Porsche 911 GT3 RS 4.0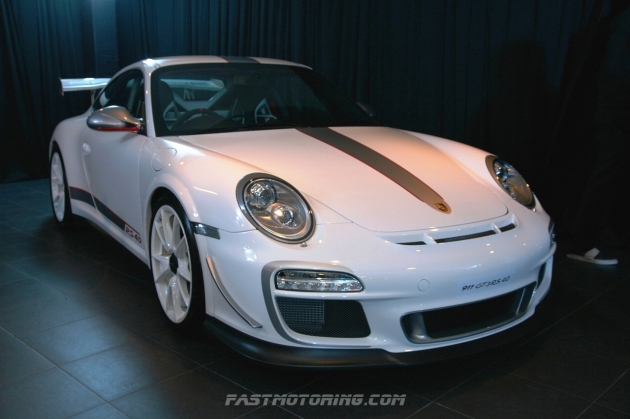 The 911 GT3 RS 4.0 is the final evolution of the 997 [Refer our previous article: Introducing the Porsche 911 GT3 RS 4.0 Limited Edition with 600 Limited Run]. There is no replacement for displacement; the GT3 RS 4.0 is now uprated to 4.0-litre engine with forged pistons, titanium connecting rods, and a crankshaft lifted from the similar GT3 RSR race car. This 6-cylinder natural aspirated boxer engine has increased the power to 500hp (+50hp from its predecessor) @ 8,250 rpm and 460 Nm (+30Nm from its predecessor) of max torque @ 5,750 rpm.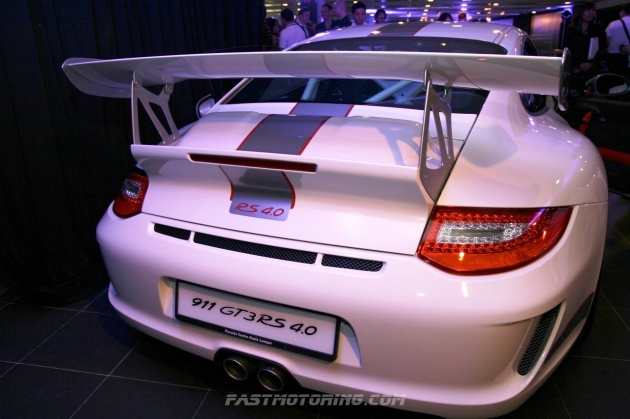 The chassis development has been greatly influenced by the GT2 RS and other 911 GT3 RS. This is also the first production car from Porsche that is fitted with front dive planes that give additional downforce pressure of 190kg up front. The entire car only weight 1,360kg (-10kg from its predecessor). It is capable to sprint from 0-100km/h in just 3.9 seconds (0-200km/h under 12 seconds) and reaches a top speed of 310km/h. Based on the factory specification of 911 GT3 RS 4.0, the fuel consumption is average at 13.8-litre/100km.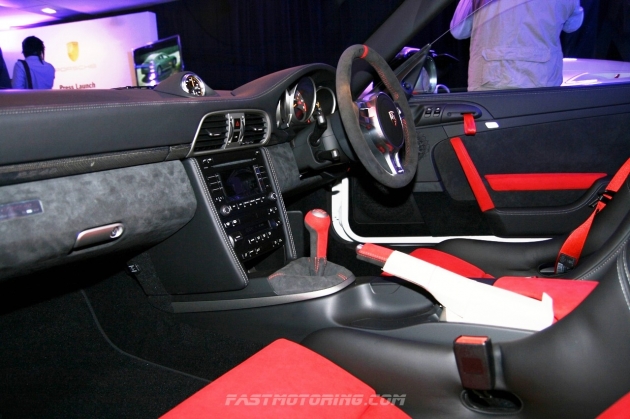 As standard, the 911 GT3 RS 4.0 only shipped in Carrera White paint and a 6-speed manual transmission. This ultimate race car is doing a very fast time at the Nurburgring in 7 minutes and 27 seconds. As typical for all RS 911s, the car has reduced its weight with carbon fibre bucket seats, fenders, aluminium doors, luggage compartment lid, and even weight-optimized carpets. It comes ready with a half roll cage as well. Last of all, the GT3 RS 4.0s were all sold out at the price from RM 1,380,000 per unit in Malaysia.
Photo Gallery: Porsche 911 GT3 RS 4.0 Malaysia
Photo Gallery: Porsche 911 GT3 RS 4.0 Official Photos
Porsche Boxster Spyder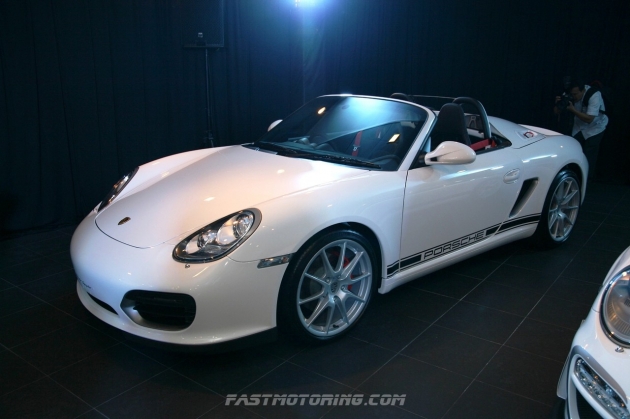 The new Boxster Spyder was officially unveiled at the 2009 Los Angeles Motor Show. The 2011 Porsche Boxster Spyder is more than just a limited-edition offering. It's the 3rd variants in the Boxster line-up to join the Boxster and Boxster S. It is now exclusively available in Malaysia with 1 unit to be offered by Sime Darby Auto Performance (Porsche distributor in Malaysia).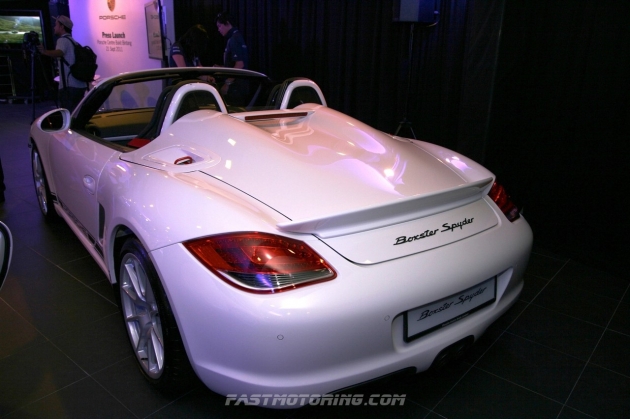 The Boxster Spyder is the lightest Porsche on the market with a weight of 1,275kg (-80kg than Porsche Boxster S). The weight reduction has been achieved by using aluminium for the doors and the unique rear deck.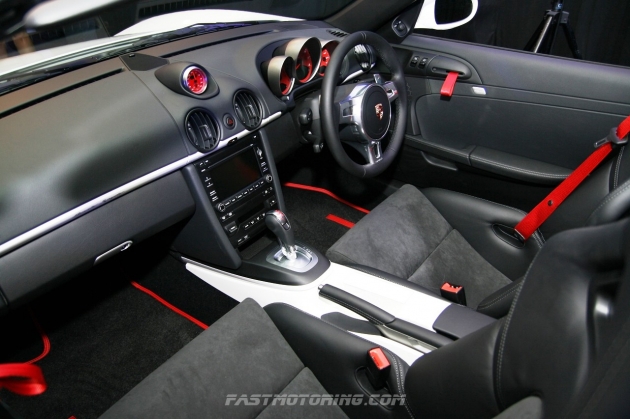 This car borrows the 6-cylinder natural aspirated boxer engine from Porsche's Cayman S. The powerplant delivers 320hp (+10hp from Boxster S) @ 7,200rpm with a maximum torque of 370Nm to the rear wheels. This sole unit in Malaysia is fitted with Porsche's PDK 7-speed dual-clutch gearbox.
The Boxster Spyder is capable to perform 0-100km/h in 5.0 seconds and a top speed of 267 km/h.
Based on the mid-engine design of the Porsche Boxster, the new Boxster Spyder is a lighter and more intense version of Boxster variants. Lighter weight means quicker reactions, higher speeds and better handling. Hence, we are pleased to say this car is one of the best cars to spend your weekend on the road.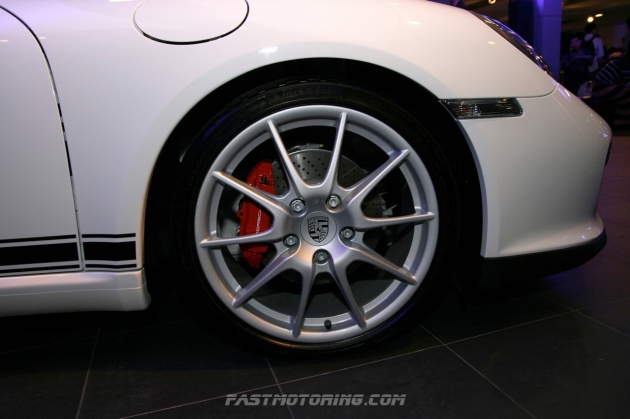 This Boxster Spyder with leather-and-Alcantara sport bucket seats, a tilt/telescoping steering wheel, bi-xenon headlights, cruise control, electronic brake differential, locking rear differential and lightweight 19-inch wheels are all included in the price of RM 626,349 in Peninsular Malaysia with all Malaysian standard tax.
Photo Gallery: Porsche Boxster Spyder Malaysia
Photo Gallery: Porsche Boxster Spyder Official Photos