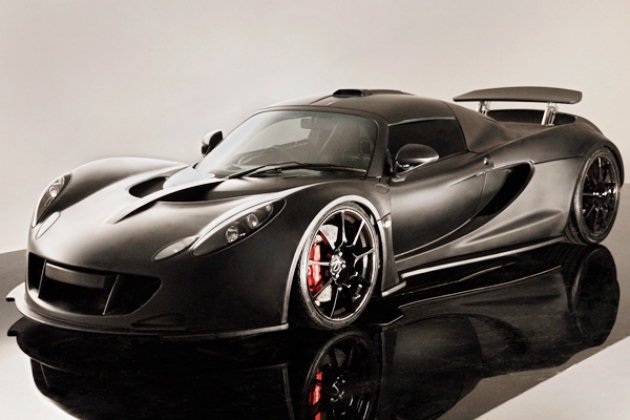 The Hennessey Venom GT is, in essence, a British-made Lotus Elise with a stretched body that's fitted with an all-American 6.2-litre Chevrolet supercharged V8 engine. The carbon fibre Venom GT weighs just 1070kg, less than most small cars.
The base-model Venom's will be offer 540kW of power and 1000Nm of torque from Corvette's V8 engine. If you require more high performance model, they also have other two twin-turbo versions: a powerful 745kW/1220Nm model, and a super powerful 895kW/1490Nm variant.
With more power than a F1 car that means it is really fast and powerful, with Hennessey suggesting the GT could sprint from 0-100km/h in just 2.4 seconds, and have an enormous top speed of 421km/h.
The engine is mounted at the rear, just like in the four-cylinder Lotus Elise, with power then sent to the rear wheels mated with a six-speed manual transmission.
Keeping all that power on the road could be troublesome, but Hennessey has designed a programmable traction control system to help keep the car on the road or the track. Besides, it has an active aerodynamics system, including an adjustable rear wing, ensures that the right down-force is applied depending on the speed and situation. The Venom GT will also feature an adjustable suspension system which allows for adjustments to ride-height and also having 15-inch carbon-ceramic brakes.
The company's Texas facility will be in charge of the engine side of the operation, and the powerplants will be air-freighted to the assembly facility near Silverstone, England.
The cars will be available in both right-hand and left-hand drive, and Hennessey says that buyers of the Venom GT will be offered a 1 day driver orientation and instruction program by a factory test driver at a track in the UK or USA prior to taking delivery of their super car.
Production of the Venom GT is limited to just 10 vehicles per year, and the company says it has already received orders for its first 4 cars. The pricing is expected to start at around US$600,000.